The right to education is crucial for children and young people's development, happiness, and future outcomes but for some children this right is not being realised.  The use of both permanent and fixed-term school exclusions has been and still is increasing. What is deeply worrying is that certain groups of children and young people are disproportionately excluded – Gypsy, Roma and Traveller children (GRT), Black Caribbean pupils, children with SEND, children eligible for Free School Meals (FSMs), looked after children, and boys. For example, in 2019, GRT and Black Caribbean children are excluded at between double to four times the national rate. Children with SEND are excluded at six times the national rate.
Since the first advocate joined Just for Kids Law in 2008, a large portion of their casework has included children and young people with experiences of school exclusions. Just for Kids Law have provided and continues to provide direct legal and advocacy support to children and young people at risk of school exclusion throughout London for over ten years now. In 2017, our legal team acted in 50 exclusion cases and our advocates supporting CYP with their related cases. In 2018, it was decided to develop a youth participation and social action element to our work on school exclusions through the introduction of a Young People's Development Worker that enables CYP to take part in a campaign on the issue. A large portion of current casework at JfKL included children and young people with experience of school exclusions.
In addition to legal representation and advocacy at JfKL, the School Exclusion Campaign offers young people with lived experience of school exclusion in London a supported opportunity to elevate their voice and work in partnership with JfKL to create a steering group and campaign that will influence positive change and wider reform for all children and young people. With the encouragement of the Youth Engagement & Campaigns Organiser, the young people on the campaign form the steering group and are responsible for and lead the creation and direction of the School Exclusion Campaign. The young people are recognised and regarded as experts by experience and as activists for their involvement.
If you're a young person (aged 14-24) with lived experience of school exclusion who wants to get involved in the campaign, please fill out the short referral form at the bottom of this page and send it to our Youth Engagement & Campaigns Organiser, Michaela Rafferty, at michaelarafferty@justforkidslaw.org.
Meet some of our School Exclusions Campaigners:
Find out more about Rose's experience, skills, and background in her CV here.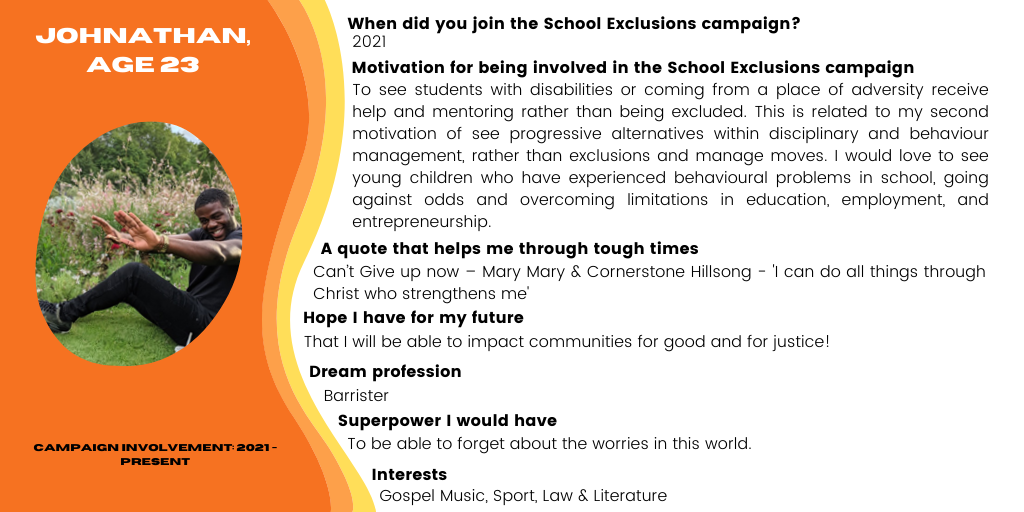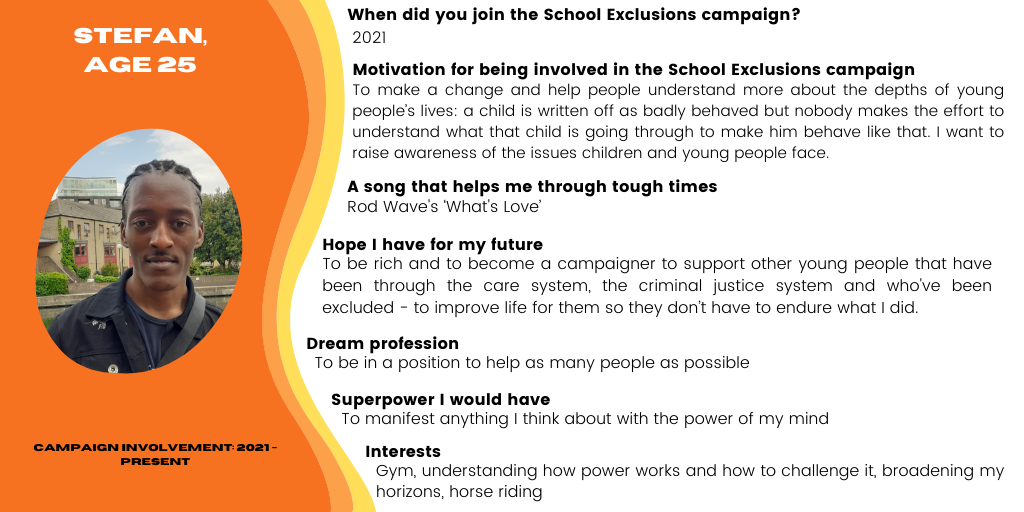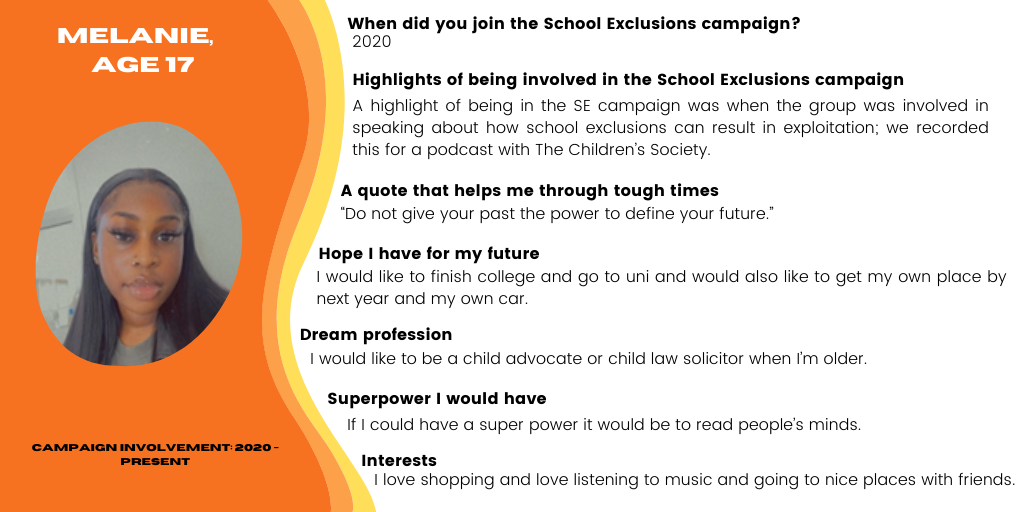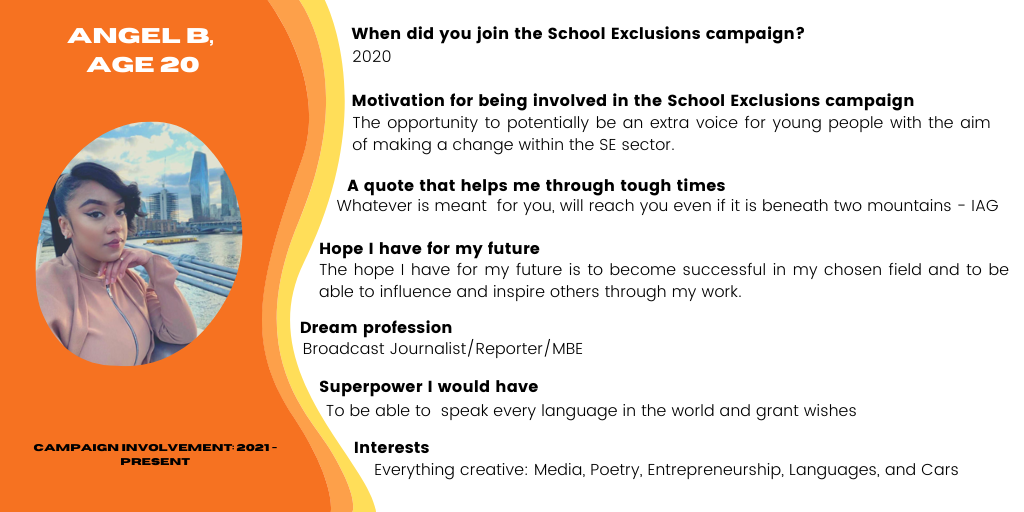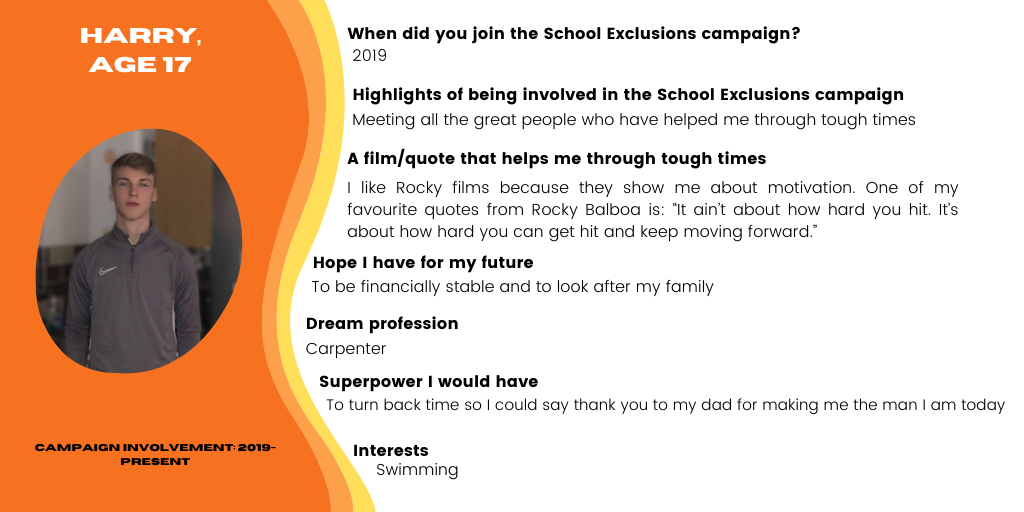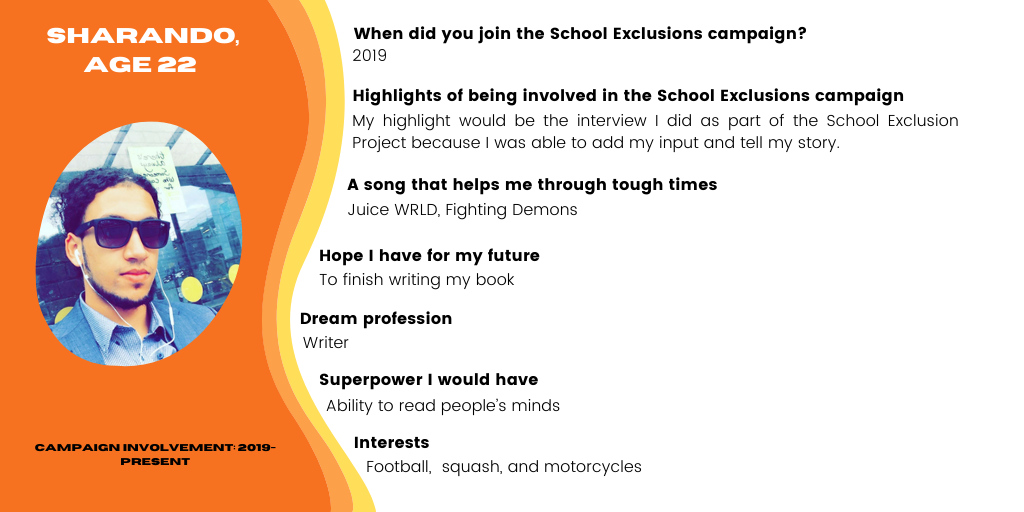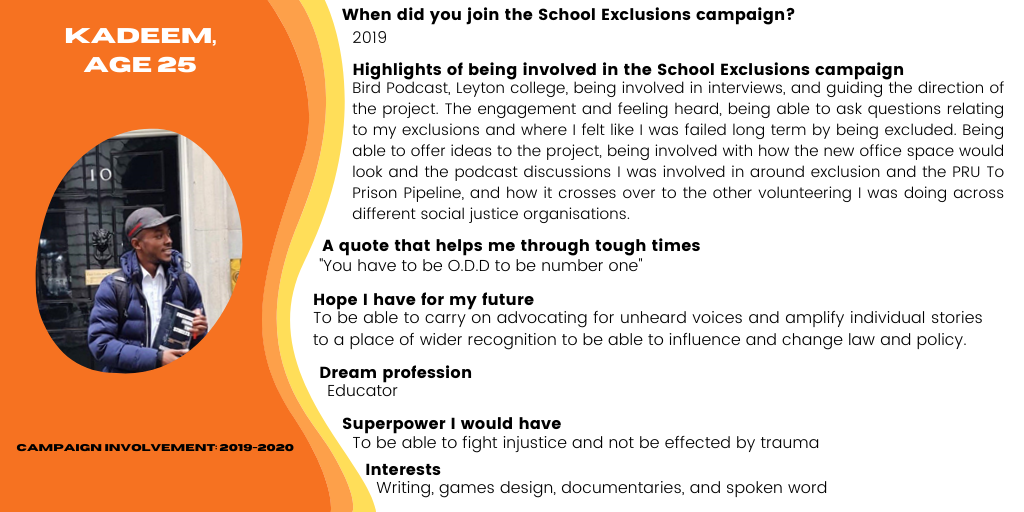 In 2012 the statutory guidance on school exclusions was amended to remove the right of independent panels to reinstate a child in education - even if the panel finds the exclusion to be unlawful, unreasonable or unfair. Since this change, there has been a rise in the number of exclusions, which has been linked to increases in violent crime involving young people. In May 2019, the government published a long-awaited review of school exclusions by the former children's minister Edward Timpson, which found that exclusions disproportionately affect children from Black and Minority Ethnic backgrounds, and those with special educational needs and disabilities.
As well as providing support and representation to children in the exclusion process, we engage with policymakers to push for changes in the law to ensure that schools are held to account and reinstate children in education when an exclusion is found to be unfair. Our campaigning work includes chairing a sub-group of the Challenging School Exclusions Working Party convened by Justice looking at reform to the Independent Review Panel process. We are also working to improve capacity among lawyers and other professionals assisting children and their families with challenges to unfair exclusions through our School Exclusions Hub. 
E-mail us to find out more.
Our work on the School Exclusion campaign is supported by the Act for Change Fund: